28 Sep

How Can I Guard My House From Spiders and Rodents In The Winter?
How Can I Guard My House From Spiders and Rodents In The Winter? – Your Ultimate Guide to a Pest-Free Home
Winter can bring unwanted guests into our homes – spiders and rodents. These pests can wreak havoc and create discomfort. But fear not! In this comprehensive guide, we'll unveil effective strategies on How Can I Guard My House From Spiders and Rodents In The Winter? We'll provide insights, tips, and tricks to help you keep your home pest-free during the colder months.
As the temperature drops, spiders and rodents seek shelter and warmth. Unfortunately, our homes often become their sanctuary. Dealing with these unwelcome guests can be a challenge. However, with the right knowledge and preventative measures, you can safeguard your home effectively. In this guide, we'll equip you with the essential know-how to fend off spiders and rodents, ensuring a cozy and pest-free winter.
Understanding the Winter Pest Menace
Winter poses unique challenges when it comes to pest control. The cold weather forces spiders and rodents to seek warmth, making our homes an attractive refuge. Understanding their behavior during winter is crucial in devising effective strategies to keep them out.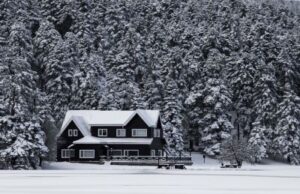 Sealing Entry Points: A Key Strategy
One of the fundamental ways to prevent spiders and rodents from entering your home is by sealing all potential entry points. By addressing cracks, gaps, and openings, you create a formidable barrier that discourages these pests from making themselves comfortable.
Maintaining a Clean and Tidy Home Environment
A clean and clutter-free home is a deterrent for pests. Regular cleaning and organization reduce hiding spots for spiders and make it difficult for rodents to find food. Embrace cleanliness to make your home less appealing to these winter invaders.
The Power of Natural Repellents
Nature offers a wealth of solutions to keep spiders and rodents at bay. From peppermint oil to citrus peels, natural repellents can be powerful tools in deterring pests while keeping your home smelling fresh and pleasant.
Effective Outdoor Management
Preventing pests from reaching the inside of your home starts with managing the outdoor environment. Trim branches, clear debris, and maintain a tidy yard to discourage spiders and rodents from approaching your house.
How Can I Guard My House From Spiders and Rodents In The Winter?
Now that we've covered the fundamentals, let's delve into specific strategies on How Can I Guard My House From Spiders and Rodents In The Winter?
1. Weatherproof Your Home: Ensure all doors and windows have proper weather stripping to keep pests outside where they belong.
2. Use Sealed Containers: Store food items in sealed, airtight containers to deny access to rodents seeking a winter feast.
3. Regularly Clean and Inspect Attics and Basements: These areas are prime spots for pests to settle in. Regular inspections and cleaning can prevent infestations.
4. Install Mesh Screens: Place mesh screens on vents and chimney openings to prevent unwelcome guests from entering your home.
5. Fix Leaks Promptly: Spiders and rodents are attracted to moisture. Repair any leaks to remove this enticement.
6. Opt for Professional Pest Control: If the situation escalates, don't hesitate to seek professional pest control services.
FAQs
Q: Can spiders and rodents harm my family?
A: While most spiders and rodents are not dangerous, some can carry diseases or cause allergic reactions. It's best to keep them out of your home for a healthy living environment.
Q: Are natural repellents safe to use around children and pets?
A: Generally, natural repellents are safe, but exercise caution and follow usage instructions to ensure the safety of children and pets.
Q: How can I tell if my home has a pest infestation?
A: Look for signs like droppings, chewed wires, and unusual odors. If in doubt, consult a pest control professional for an assessment.
Q: Can I handle pest control on my own?
A: For minor issues, DIY pest control can work. However, for severe infestations, it's advisable to seek professional assistance.
Q: What's the cost of professional pest control services?
A: The cost varies based on the severity of the infestation and the type of treatment needed. It's best to get quotes from multiple providers for a fair comparison.
Q: How long does it take to see results from pest control treatments?
A: The timeframe varies depending on the treatment and pest. Some results may be immediate, while others may take a few days to show full effectiveness.
In Conclusion
Keeping your home free from spiders and rodents in winter is an achievable goal with the right strategies and dedication. By sealing entry points, maintaining cleanliness, and employing natural repellents, you can create an inhospitable environment for these pests. Remember, a pest-free home is a comfortable and healthy home.