At Action Pest Management, we know that each home and each place of business have unique pest control challenges to overcome. With many years of experience, our team of specialists is prepared to face these challenges head-on to achieve a positive outcome that will last.
If you have anything that is flying, disease-carrying, or crawling in your home or place of business, this broken arrow exterminator is well equipped to come to your aid. We provide services that include: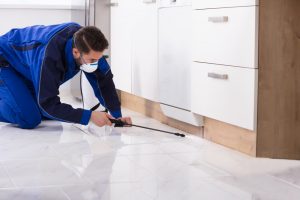 Ant Control
Roach Control
Bed Bug Control
Black Widow Control
Bee And Wasp Control
Snake Control
Fly And Gnat Control
Rat And Rodent Control
Mouse Control
Termite Treatments
Pest Control Services
Action Pest Management works hard to develop customized plans of action that best fits your individual needs. This means that our team isn't just limited to a one-size-fits-all option. If there are creepy crawlers wherever you are, that's where we'll be.
Commercial Services
Being a business ourselves, we understand and recognize the importance of maintaining a strong and positive image for our clients. Customers want to feel safe and secure wherever they are choosing to invest there time and money.
One of the quickest ways to lose that kind of reputation for your business is for a customer to have any kind of run-in with a pest or rodent. While your company may be completely legitimate, all it takes is one bad review caused by an unwelcomed pest.
To help you avoid this problem, our team of specialists will perform an inspection of your entire business that is detailed and thorough. This inspection will shed light on any hiding spots, nesting sites, or entry points that might have been overlooked in the past.
This inspection allows us to assess the information, and provide you with a comprehensive overview of what the next steps will be moving forward. You will be well on your way to having a pest-free work environment that you, your staff, and your customers will all greatly appreciate.
Residential Services
It's safe to say that everyone wants to have a home where they feel comfortable and safe. You should never have to feel uneasy, anxious, or fearful when you walk through the front door.
Action Pest Management wants to give homeowners the peace of mind that they deserve by providing quality and professional residential pest control services. Every homeowner should be able to get home from work and know that they are entering a home that is pest and rodent-free.
When our team arrives at your home, you can expect them to do a detailed inspection that will reveal exactly where any problems are. Once our specialists have a plan, they will get to work pest-proofing your home so that you can sleep soundly at night.
We operate with extreme caution and make sure to provide you with any necessary safety instructions so you don't need to worry about your children or your pests being in any danger. Safety is paramount when we are at your home.
With these kinds of routine treatments, you can expect your house to stay free of pests not just for a few weeks, but for the long term.
What Are The Benefits Of Choosing Action Pest?
There are some great benefits in choosing Action Pest to take care of your extermination needs. Some of those include:
Action Pest Management Is Safe — As mentioned before, safety is a big priority for us here at Action Pest Management. So much so that we offer environmentally friendly insecticides that we administer by EPA guidelines and manufacturers.
Any kind of special treatment that leaves behind some kind of residue is done very carefully and responsibly. Our team will give you important instructions if they are necessary so that you are always informed. Once the job is done and the residue has dried, any kind of risk is greatly reduced.
Instead of trying to administer poisons on your own, it will always be better to hire a professional who knows how to handle these products in a manner that is safe for everyone involved.
Action Pest Management Is Local — If you are in the Tulsa area, we are not far from your doorstep. If you have infestation emergencies or don't want to wait for weeks, Action Pest Management is the pest control company for you.
There is no need to look further than you have to when we are just around the corner. Simply contact your local Broken Arrow Exterminator, Action Pest!
Action Pest Management is Certified — For our team, exterminating pests isn't just a hobby, it's a profession. The technicians at Action Pest are certified by the State of Oklahoma as Commercial Pesticide Applicators.
Quality pest control services are what we want to provide, so we know this means we have to put the work in ahead of time. You can be certain that before anyone is administering any treatments at your home or business, they are going through intense training that leads to a legitimate certification.
Whenever one of our teams is at your business or home, you can be assured that they are more than qualified to tackle whatever situation they are facing.
Action Pest Management is Dependable — Having the right kind of training and treatments means nothing if you aren't reliable and dependable. That is why the team here at Action Pest places such high value on being on time, on task, and respectable at all times.
When Action Pest answers your call, you can expect excellent customer service, and clear communication from the beginning of the job right till the very end.
If you have any questions or concerns during the administration of a treatment or inspection, our specialists will never hesitate to provide you with the answers you are looking for. There are no bad questions when pests are involved.
Action Pest Management is ready to answer your call and take care of all of your extermination needs. If you want to find out more information on our products or services, contact us today!